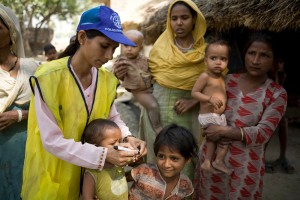 In a push toward eradicating polio in Pakistan for good, more than 100,000 healthcare workers descended on the Middle Eastern country earlier this week to help administer polio vaccinations. Pakistan is currently one of only two countries in the world where polio cases still exist, the other being Afghanistan, and it accounts for more than 70 percent of the world's current cases of the debilitating illness. With the opening of the new immunization clinics, workers are striving to vaccinate every child in the country by May.
Efforts to halt the spread of polio in Pakistan have been an uphill battle and workers have been on the receiving end of numerous death threats by militants. Most recently, a suicide bomber killed at least 15 people outside of an immunization clinic in the city of Quetta earlier this year. However, workers are saying that through community outreach and education that their presence is becoming more accepted by the locals, and that they will continue administering the vaccine.
For the full article, visit FoxNews.com.