On October 22, 2015, Kevin Kimberlin, chairman of Spencer Trask & Co., and Dr. Charlotte DeCroes Jacobs, author of the biography, "Jonas Salk: A Life," joined together to celebrate the work of the late Jonas Salk, a visionary who discovered and developed the first successful vaccination for polio. It was a filled theater of enthusiastic supporters at the Grand Hyatt in Old Greenwich, CT.
At its peak in the 1940s and '50s, polio paralyzed or killed more than half a million people worldwide each year. Since the introduction of Salk's vaccine, cases of the crippling disease fell from 35,000 in 1953 to 5,300 in 1957 in the United States. By 2015, polio remained endemic in only two countries: Pakistan and Afghanistan.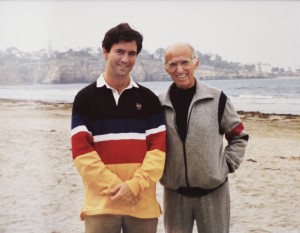 In his speech, Kimberlin said that the World Health Organization (WHO), which has teamed up with UNICEF, Rotary International, the Center for Disease Control (CDC), and the Bill & Melinda Gates Foundation, recently announced that, "by the end of 2015, virtually every nation in the world, 195 out of 196 countries, have agreed to use or are already using the Salk vaccine to completely eradicate polio." He added that, "the elimination of polio has recently been called the largest ever international mobilization in times of peace."
He shared with the audience that "As a friend and the co-founder of a company called the Response Corporation, I got to know Jonas very well and I was tremendously inspired every moment of every day that I spent with him."
Turning the stage over to Jacobs, she added that "Jonas Salk made some of the most major contributions to medicine, not only with his polio vaccine, but with his co-developed, first effective influenza vaccine and was working on an AIDS vaccine when he died."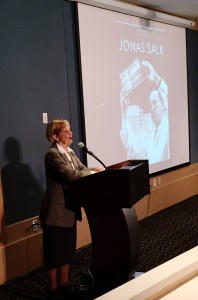 Jacobs shared her personal experience, that in 1954, the March of Dimes had selected her hometown of Kingsport, Tennessee, as one of the test sites for the polio vaccine, and she was one of the first children to receive and was dubbed a "polio pioneer." A year later, it was announced that the vaccine proved effective and that polio could be prevented, making Salk one of the greatest heroes of our time.
For her book, Jacobs conducted more than 100 interviews with Salk's family members, friends, classmates, and scientists to get an "intimate portrait" of the visionary. She learned that in 1986, a 33-year-old entrepreneur named Kevin Kimberlin gave him a call and told him that he wanted to work with him on the AIDS epidemic. At first Salk was wary, but eventually a friendship blossomed and together they founded the Immune Response Corporation. "I think Kevin shares the key characteristics that made Jonas so successful, and that is idealism, passion, and tenacity," Jacobs said.
Although we're closer than ever to eradicating polio for good, there are still challenges ahead…but the fight isn't over yet.